PLEASE READ THE FAQ HERE BEFORE ASKING QUESTIONS.
FAQ: https://wiki.nottinghack.org.uk/wiki/LaserCutCOVID-19_PPE
This is the DXF File for laser cutting a Polypropylene (PP) Head Band to attach an A4 clear binder sheet to:
Covid 19 Facemask - V0.5.dxf (164.7 KB)
NOTE - THIS IS VERSION 0.5 which DOES NOT REQUIRE A FOUR HOLE PUNCH - IT USES A TWO HOLE PUNCH AS PER PICTURE BELOW: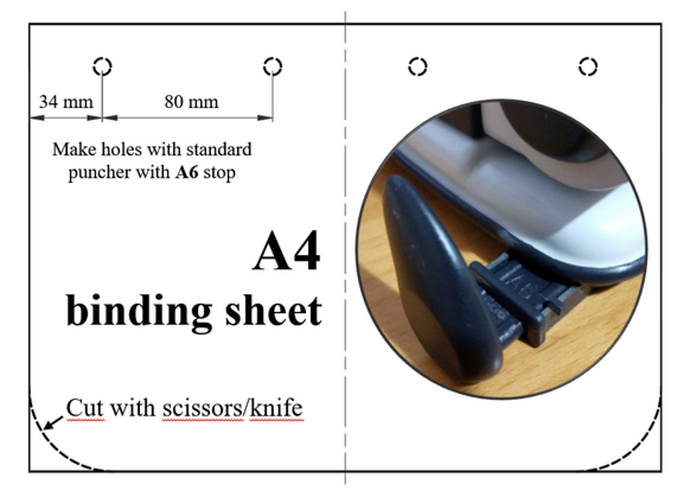 Kitronik Kevin in a prototype: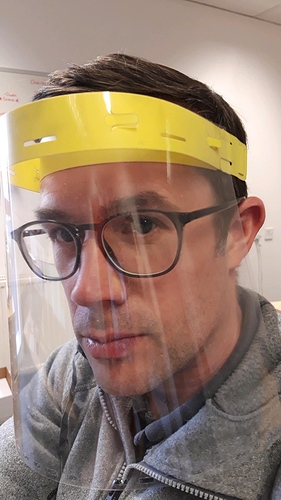 We have been working with Kitronik to create a laser cut version of the RC1 & RC2 Face Shield for use by at risk, front line medical staff. Due to the scarcity of materials suitable to make an entire face shield in a single laser cut, we've adapted a 3D printed design, already accepted by (our local GP alliance &) the NHS in the UK as suitable.
THINGS YOU WILL NEED:
1. A Laser Cutter with bed greater than A3 300mm x 400mm
2. Polypropylene sheet 0.5mm any colour
3. A4 clear Acetate/PVC binder cover
4. Hole punch with slider for A6 holes (current version needs a 4 hole punch for A4).
5. Clean hands and a way to bag you shields
PLEASE READ THE FAQ HERE BEFORE ASKING QUESTIONS.
The shield consists of 2 parts.
A Polypropylene (PP) adjustable head band, this is laser cut from 0.5mm polypropylene sheet of ANY COLOUR like this at Kitronik

An A4 PVC or Acetate Clear Binder Sheet at least 100 microns thick as used for binders and other publications similar to this on Amazon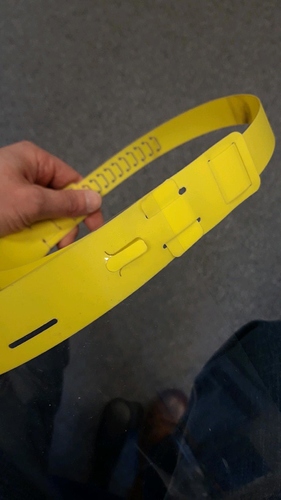 Notes about the shield:
The plastic sheet acetate/PVC This DOES NOT need to be laser cut. Use a hole punch on the A6 setting to make holes on either end of the sheet to attach to the polypropylene head band. We will make a set of pictures of a video showing this later.
The above linked sheet are rapidly becoming a low supply item, it is worth searching around the web for something similar from a different supplier or even try your local BIG STATIONARY STORE especially if they have an online dept. Or you could email or call them.
PLEASE READ THE FAQ HERE BEFORE ASKING QUESTIONS.
We may be running Zoom conference calls and a SLACK channel soon please DO ask about joining.
IF YOU DO NOT ALREADY HAVE ACCESS TO A LASER CUTTER WE ARE UNABLE TO ARRANGE ACCESS. PLEASE DO NOT TELL US SUCH AND SUCH PLACE HAS A CUTTER. ARRANGE FOR THE LASER CUTTER OWNER TO CONTACT US.
PLEASE READ THE FAQ HERE BEFORE ASKING QUESTIONS.
This Dropbox link below contains a zipped version of all files, a DXF laid out with 5 units, as well as Ai and SVG file versions of this face shield.
Face Shields Optimised for laser cutters of around 500mm x 300mm
[500x300] Covid 19 Facemask - V0.5.dxf (499.7 KB)
Face Shields Optimised for A2 cutters around 600mm x 400mm
[600x400] Covid 19 Facemask - V0.5.dxf (591.3 KB)